Fantasy Baseball Newsletter

Coaches Meeting by Louis Blasi

Week of August 16th - August 22nd

Funny …

Yesterday morning I kept having flashbacks to my college days.

I kept getting these splinters of memories about the night before which must have obviously been some kind of wild party. A hundred women dressed in togas … lots of loud music and video everywhere … people dressed in outlandish clothes … lot's of smoke and flashing lights … an absolutely huge tub filed with something, I'm not sure … everyone was talking but I couldn't understand what they were saying … everyone taking pictures and smiling … there was this endless line of girls in heavy makeup and right behind them were guys fighting over them and running after them … I think I even had a flash of a bull, and some blue guy who came dressed as cupid… I don't know why …

Anyway the party seemed to end the same way all of my college parties ended …some idiot lit something on fire and some other idiot lit off some fireworks and we all had to go home …

But the oddest fragment I can remember is this voice … I heard it somewhere between when my eyes glazed over and I finally passed out … And here's the strange part … The voice sounded just like Bob Costas … And he was saying that the party was so expensive it would cost every man woman and child in Greece $1,000!

Man…I wish I remembered more about that party ….

What?

Olympic opening ceremonies?

Oh …

That explains it….

Never mind…

First the American League parade of nations … It's six of one and half a dozen of another in the Junior Circuit this week, everyone plays 6 games.

The Twins and A's score a 42 on our Strength of Schedule (SOS) Rating this week, the highest in the league. The Twins schedule may score out well, but I don't know. They take on the Yankees, facing Mussina, Vazquez, and Hernandez before facing the Tribe, seeing Westbrook, Durbin, and Sabathia … The A's schedule looks better to me. They take on the Orioles and Bedard, Lopez, and Ponson which hasn't been a day at the beach lately, but after that they draw the Rays and Halama, Sosa and Brazelton … The Blue Jays come in just behind the leaders at 41. They open with the Red Sox and Lowe,

Martinez and Wakefield before finishing with the O's and Borkowski, Cabrera and Bedard.

The White Sox schedule is rated as the hardest in the AL this week. They open with the Tigers facing Ledezma, Maroth and Bonderman before facing the Red Sox and Schilling, Arroyo and Lowe. Ledezma scores tougher than he should here and Curt Schilling is struggling with his ankle a bit so add a couple notches to their 17 for the week . The Tigers come in at a 20 this week with meetings with the White Sox (Garcia, Contreras, and Garland) and M's (Moyer, Meche, and Madritsch) … The Red Sox come in at 20 as well, hosting the Jays (Miller, Lilly, and Batista) and visiting the White Sox (Buerhle, Garcia, and Contreras.

The national League actually plays some games tomorrow for a change. There are a couple of double headers this week as well. The Expos and Giants pair up on Wednesday and the Pirates and Cardinals play two on Friday. As a result the Pirates will play 8 games this week, as will the Cardinals. The Expos and Giants play 7 games as do the Dodgers and Braves. Everyone else plays 6.

The Pirates' 62 of 80 on our SOS rating leads the NL this week. They open with the D-Backs (Webb, Cormier, and Fossum) before playing 5 in 4 days with the Cardinals (Marquis, Carpenter/Haren, Suppan, Morris) … The Expos, believe it or not have the second easiest schedule in the NL this week with a 52 of 70 based on their series with the Giants (Rueter, Schmidt, and Hennessey/Franklin). Then they finish the week with Wright, Kennedy and Jennings of the Rockies … The Giants come in at 49 of 70 based on meetings with the Expos (Patterson, Biddle, Armas/Rauch) and Mets (Trachsel, Glavine and Zambrano).

The Braves rate out with the leagues toughest schedule despite the fact that hey play 7 games this week. They score a 12 of 70 with meetings with the Padres (Hitchcock, Peavy, and Wells) and the Dodgers (Penny is scheduled Thursday, Lima, Weaver, Alvarez) … The Marlins score a 17 of 60. They face the Dodgers (Weaver, Alvarez and Perez) and Padres (Lawrence, Eaton and Hitchcock) … The Phillies are next up with an 18 of 60. They play the Astros, drawing (Oswalt, Pettitte, Clemens) before meeting the Brewers (Davis, Capuano, Santos)

Guys I Like This Week

Derek Lowe – TOR (Miller), CWS (Contreras) – Looks like he's pulling it together.

Danny Garcia – Gets most of Jose's PT and can provide steals

Sidney Ponson – He draws Mulder and the A's this week, but it might be time take a shot if he's available in your league.

Armando Benitez – Back for the Fish and closing once again.

Carlos Delgado – Finally finding his stroke.

Not So Much

Mike Hampton – SD (Hitchcock), LA (Weaver)

Brandon Claussen – STL (Suppan), ARZ (Webb)

Jason Jennings – NYM (Zambrano), MON (Biddle)

Brad Radke – NYY (Mussina), CLV (Sabathia)

John Patterson – SF (Rueter), COL (Kennedy)

Victor Zambrano – COL (Jennings), SF (Schmidt) - Yikes

Ryan Vogelsong – ARZ(Cormier), STL (Morris)

Sean Burnett – ARZ (Webb), STL (Suppan)

Sterling Hitchcock – ATL (Hampton), FLA (Pavano)

Jody Gerut – Coco Crisp is pinning him on the bench for now.

Dave Roberts – PT has been scarce in Boston

Sammy Sosa/Ken Griffey Junior – Sad and sadder.

Mike Mussina – The Moose returns mid-week, but it might be better to watch this one for free.

Mike Piazza – Will sit this week out.

Estaban Loaiza – No magic in his pinstripes yet …Bullpen bound?

Brad Penny – A return this week would be optimistic. The DL may be more likely.

Have a great week!

Fantasy HOT Zone

Top 10 Hot Players this week

1B: Snow,J.- YTD ABs:242, SLG:0.521, OPS:0.933, FPI:0.79 1 Week ABs:16, SLG:1.125, OPS:1.777, FPI:1.59
2B: Cairo,M.- YTD ABs:225, SLG:0.440, OPS:0.773, FPI:0.64 1 Week ABs:18, SLG:0.944, OPS:1.471, FPI:1.55
OF: Wilkerson,B.- YTD ABs:391, SLG:0.486, OPS:0.864, FPI:0.69 1 Week ABs:23, SLG:0.783, OPS:1.390, FPI:1.43
OF: Rivera,J.- YTD ABs:220, SLG:0.405, OPS:0.717, FPI:0.52 1 Week ABs:16, SLG:0.625, OPS:1.154, FPI:1.38
OF: Bonds,B.- YTD ABs:262, SLG:0.786, OPS:1.391, FPI:1.22 1 Week ABs:15, SLG:0.933, OPS:1.612, FPI:1.36
OF: Walker,L.- YTD ABs:123, SLG:0.642, OPS:1.097, FPI:1.00 1 Week ABs:15, SLG:0.733, OPS:1.210, FPI:1.36
2B: Roberts, B.- YTD ABs:445, SLG:0.373, OPS:0.726, FPI:0.62 1 Week ABs:28, SLG:0.750, OPS:1.356, FPI:1.32
1B: Broussard,B.- YTD ABs:276, SLG:0.471, OPS:0.844, FPI:0.68 1 Week ABs:23, SLG:0.913, OPS:1.371, FPI:1.29
OF: Ford,L.- YTD ABs:400, SLG:0.478, OPS:0.856, FPI:0.75 1 Week ABs:19, SLG:0.737, OPS:1.344, FPI:1.29
OF: Tucker,M.- YTD ABs:341, SLG:0.475, OPS:0.858, FPI:0.69 1 Week ABs:19, SLG:0.789, OPS:1.313, FPI:1.26


---

Text Bytes: from this week's Daily Reporting

Jason Bay was the lone bright spot for the Bucs' offense yesterday. He was 2-for-3 with 2 runs and an RBI (courtesy of a solo home run). Bay is SCARY close to our preseason projection for him in terms of FPI. He has 0.77 FPI on the season, compared to our preseason projection of 0.74. He has slugged for a higher percentage than we anticipated, which accounts for most of the difference. This can be relatively easily explained, in an intuitive sense. He hacks like a mother, as his 80 strikeouts in 73 games illustrates. In fact, he strikes out in almost a third of his plate appearances. Second, he hits a lot of fly balls. His GB/FB ratio is currently 0.83. "Hacks like a mother" + "Low GB/FB ratio" = P-O-W-E-R.Jeff Ackerman

It's hard to figure Damon out. After an absolutely torrid first half of July, his bat went cold after the All Star Break, with the exception of the yankees' series. Now, with yesterday's 3-for-5 performance including a triple, maybe he is snapping out of his slump. Damon is now working on a modest 3-game hitting streak. It's time, though, to bury thoughts that maybe he will give you the steals he once did. On the plus side, he was at least trying again this weekend, making his first official attempts since swiping a base on July 21st. In the "cup half empty" department, though, he was thrown out each of the 3 times he attempted against Pudge Rodriguez. Paul Sauberer

We talked about …well, why should I drag everyone here down with me? …Yesterday I talked about how I felt Zack Greinke was hitting a wall and I see the same thing happening to Sean Burnett. He gave up 4 runs to the Pirates on 7 hits and 5 walks last night in 5.2 IP. After going 4-1 in 5 July starts with a 3.64 ERA, Sean has given up 10 runs in 9.2 IP in two August starts, allowing 15 hits and 6 walks. In his last start he gave up 4 HRs which may have very likely led to the 5 walks in this start. Pitchers work hard out of the gate and word gets around the league quickly. It doesn't talk long before young pitchers hit a bit of a wall. Sideline Sean for now until he proves he's made an adjustment … The Giants may have just been a bit excited to see a left-hander. Burnett is the first LHP they've seen in 17 games. Lou Blasi

Brandon Claussen dropped to 1-3 with a 6.93 ERA after hading out 7 runs in 3 innings to the Dodgers last night on 4 hits, 5 walks and 2 strikeouts. Brandon needed 49 pitches to get through the first inning (I'll let that sink in a bit … ready?) and then gave up back-to-back Jack in the third. He's now walked 13 hitters in 14.1 IP over his last three starts, He's also given up three HRs and struck out 8. More walks than strikeouts? Not good … 1.8 HRs per 9 IP? …Not good … Mysterious pink rashes in unusual places? … Not good …But that's a problem of … a friend of mine …ya, that's it …a friend … It's not one of Brandon's problems, He's got enough of his own right now and too many for your lineup. Sit him down until he exhibits a pulse. Lou Blasi

Batting average is much more variable than the power categories, but a player like Darin Erstad can help you when he's getting his singles. Erstad, rightfully much of the time, has been much maligned in the sabermetric circles, and the Angels decision to move him to first base removed most of what little value that he still possessed. However, he is such a successful base stealer that when he's batting .300, he has enough value to help most teams. This season, Erstad is hitting 302/349/407 with 12 steals in as many attempts. Perhaps he's finally healthy, perhaps this is an aberration, or the most optimistic thought: maybe he hasn't been healthy in four years, and some power will show up again next year. I'd bet on a combination of one and two, but any of them are possible. Just like Barry Larkin and Omar Vizquel, don't completely write off the "washed up" players before their value has completely evaporated.- Schulyer Dombroske

Ben Broussard has been on fire since the middle of June, slugging well over .500 and putting up an OBP of close to .400. Broussard singled, doubled, and homered last night against Chicago, bringing his season line to 279/381/449. I'm uncertain as to why people are so quick to dismiss Broussard, just as I'm curious about people's opinions on another Ben without a glove: Ben Grieve. These guys have fair power and get on base very well, but they are constantly the first guys on the firing line when another guy comes around. Broussard, especially in leauges that value OBP, can be a decent contributor, and at age 27 it's reasonable to expect a bit more power to come along as well. I'd take him on my squad, if the league weren't one of the most shallow. Schulyer Dombroske

The Phillies acquired Cory Lidle from the Reds for two players in the low minors. The injury to Kevin Millwood forced Slow Eddie's hand, and he had to make a deal for a starter. Lidle had dominating second halves in both 2001 and 2001, but that is the extent of his success in the majors. His FPI has fallen for three straight years (1.73 – 1.51 – 0.97), and continues that slide this year (0.81). He is not worth owning from a fantasy perspective (and probably not from a major league baseball team perspective, either). He will throw a bullpen session today, and then the date of his first start for the Phils will be decided. Here's what Yours Truly had to say about him just one week ago: "His 2.0+ K/BB on the season is where you want it to be, but he hasn't had a month where his ERA was under 4.50, and the 7.76 ERA in five July starts is downright scary." E-A-G-L-E-S.....EAGLES !!!!! Jeff Ackerman

Wait, I thought Beltran was supposed to be better in the hitter-friendly Minute Maid Park? Since going to the Astros, Beltran is hitting .242 compared to .278 with the Royals. Let's take a look at his power numbers to see Beltran's fantasy effectiveness. His OPS was .901 in KC and over .870 in Houston – not a huge difference. A look at his FPI shows a similar trend – 0.78 with KC compared to 0.74 in Houston. The key is that he's hitting HR at a faster pace in a smaller park. While wearing the Astros pinstripes, Beltran has 1 HR / 12.4 AB compared to 17.7 AB with the Royals. Chalk up the lower average to an entire league of new pitchers combined with trade rumors and contract talk. If he can get up the learning curve over the next few weeks and ignore the off-field distractions, I think we'll see some special things out of Beltran before the end of the season.-Joe Ribando

We publish over 100 player reports EVERY DAY in our member section.


Daily Intelligence

Winning Features

Detailed Minor League Prospect Analysis

Pitching Intelligence logs

Weekly Player Rater based on opposition.

Daily Fantasy Values

14 day Expected Pitching Rotations

Advanced Stat Databases

More, more and much more!

See More

Special Offer

Are you ready for some Football?

See More

Who Are The Best Catchers to Run On? by Jeff Ackerman

I want to follow-up today on a question raised by a subscriber, and mentioned by our own Sweet Lou yesterday. Most of the advice here will refer to those in rotisserie leagues, but can be applicable to fantasy points leagues too if your league places good value on SBs.

We are late in the season now, and making huge strides in calculated categories (like ERA, WHIP, and AVG) is all but impossible. One of the stats that can allow for big gains is stolen bases. If you have the potential to gain a couple of standings points with just a handful of swiped bags, you need to plan as carefully as you can in order to get those SBs. One way to make an informed decision on which of your potential speed threats to play is the opposing catcher's Caught Stealing percentage (CS%). At this point in the season we have enough data to know who can throw out a good percentage of basestealers...and who can't.

You shouldn't make a decision based on this info if one player you're comparing to another is simply a much better speed weapon. But, say you have to decide between two relatively middle-of-the-road guys like Chone Figgins (24 SBs) and Ryan Freel (22 SBs) for your starting lineup this week. If Chone is playing against the Twins and Henry Blanco (0.52 CS%), he'll have a much tougher time stealing than Freel, who is facing the Braves and Johnny Estrada (0.18 CS%). In order to create this list, I divided up the players into NL and AL, and included only players who had caught 200 or more innings this year. A top half and bottom half are shown for each league. I wanted you to be able to see all the data for making up your lineups, not just the top two or three.

Click here to see the Player Charts

Minor League Prospects by Aaron Gleeman

By Aaron Gleeman

Hello and welcome to Prospect Central. Throughout the season, I will be looking at prospects around baseball each and every week, from standouts in rookie ball to polished studs who just made their major league debuts.

GABE GROSS – OF

Organization: Toronto Blue Jays

Bats: Left

DOB: 10/21/1979

| | | | | | | | | | | | |
| --- | --- | --- | --- | --- | --- | --- | --- | --- | --- | --- | --- |
| YEAR | LVL | AB | AVG | OBP | SLG | HR | 2B | 3B | BB | SO | SB |
| 2002 | AA | 403 | .238 | .333 | .380 | 10 | 17 | 5 | 54 | 53 | 8 |
| 2003 | AA | 310 | .319 | .423 | .481 | 7 | 23 | 3 | 52 | 53 | 3 |
| | AAA | 182 | .264 | .380 | .456 | 5 | 16 | 2 | 31 | 56 | 1 |
| 2004 | AAA | 377 | .294 | .381 | .454 | 9 | 29 | 2 | 53 | 81 | 4 |

With Vernon Wells established in center field and Alexis Rios now manning right field, Gabe Gross is the last piece of the "Outfield of the Future" puzzle in Toronto. Gross, Toronto's first-round pick back in 2001, took a fairly slow path through the minors and made his major league debut last week.

A college draftee, Gross made his pro debut at Single-A in 2001 and also played 11 games at Double-A after being drafted that year. A guy who does that is normally on the fast track to the majors, but Gross ended up playing at Double-A in three different seasons, before spending parts of two years at Triple-A.

The main thing that held Gross back was the fact that he performed very poorly in his first full season at Double-A, hitting just .238/.333/.380 in 112 games there in 2002. He then bounced back last year, hitting .319/.423/.481 in 84 games at Double-A, before being promoted to Triple-A. While at Triple-A Syracuse, Gross hit .264/.380/.456 in 53 games in 2003 and was batting .294/.381/.454 in 103 games there before being called up by the Blue Jays this month.

Gross doesn't project as a superstar, but he is major-league ready and should be a solid regular corner outfielder. His #1 asset is his plate discipline, which has been consistently excellent at every stop. Take a look at how consistent his walk rate has been …

LEVEL BB/G

Double-A .537

Triple-A .538

That works out to 80-85 walks over the course of a full season, which is awesome for a young hitter. In addition to the walks, Gross has relatively good power. He had a .155 Isolated Power (slugging percentage minus batting average) in 207 games at Double-A and a .170 Isolated Power in 156 games at Triple-A.

I consider a .200 Isolated Power to be "hitting for power," so something in the .150-.170 range is good but not great. Some major leaguers in that range this year are Brian Giles (.170), Kevin Millar (.168), Matt Lawton (.164), Derek Jeter (.162) and Bret Boone (.155).

If Gross can maintain a similar walk rate and keep the IsoP around .160 or so, he can be a very nice leftfielder for the Blue Jays. For instance, if he were to maintain his minor league rates in those two areas and hit .275 in the majors, he would have a batting line of something like .275/.360/.440. Thanks to his secondary skills, Gross could still be a servible hitter while batting in the .230-.250 range, but obviously the Blue Jays are hoping for more than that.

Gleeman long-term grade: B

BRAD HENNESSEY – P

Organization: San Francisco Giants

Throws: Right

DOB: 2/7/1980

| | | | | | | | |
| --- | --- | --- | --- | --- | --- | --- | --- |
| YEAR | LVL | IP | ERA | SO | BB | H | HR |
| 2003 | A | 79 | 4.20 | 44 | 27 | 81 | 6 |
| 2004 | AA | 101 | 3.56 | 55 | 34 | 106 | 8 |
| | AAA | 29 | 2.17 | 13 | 13 | 21 | 2 |

Brad Hennessey's major league debut was just a regular day with nothing special going on. He was facing the Cubs, at Wrigley Field, and it was Nomar Garciaparra's debut with his new team after being traded there from the Red Sox. Oh, and one more thing … Greg Maddux was going for this 300th major league win. Other than that though, just an ordinary day for a rookie.

Hennessey and the Giants took an early 3-0 lead and it looked like Maddux's quest for 300 wins would have to go on another day. Then Hennessey got into trouble in fourth, giving up two runs, and then again in the fifth, giving up two more. He was yanked with two outs in the top of the fifth, after giving up four runs on seven hits, while striking out five and walking one.

Hennessey's second major league start went a little better. He gave up five runs, but just one of them was earned, and the Giants scored 16 runs to beat the Phillies 16-6. So in his first start, Hennessey lost to Greg Maddux for Maddux's 300th win. For his second start, Hennessey received 16 runs of support. I hope he doesn't think they'll all be like this.

As for Hennessey's skills … he doesn't impress me much. In 209 career minor league innings, he has a grand total of just 112 strikeouts, along with 73 walks. There are very few guys who can get away with strikeout-to-walk ratios like that in the majors, let alone in the minors. For the most part, when young pitchers come to the majors, their strikeout rate goes down and their walk rate goes up. If that happens to Hennessey, he'll be very close to having a 1-to-1 strikeout-to-walk ratio.

The best-case scenario for Hennessey is probably that he becomes a right-handed Kirk Rueter, which is interesting because Rueter has had a lot of success pitching for the Giants too. Rueter had a decent strikeout-to-walk ratio early in his career, but he's been below 1-to-1 since last season. This year, he has 43 strikeouts and 49 walks in 136.1, along with a 5.15 ERA.

Gleeman long-term grade: C-

Prospects Coming later this week for Premium Members:

RYAN SNARE – P

JAIRO GARCIA – P

CHA-SEUNG BAEK – P

See the other Prospects exclusively in the member area. There are over 200 Prospects outlined in DETAIL in the subscription area.
Do you Play Fantasy Football? Now in their 6th season www.Insiderfootball.com introduces the most powerful Player Projections Software in existence.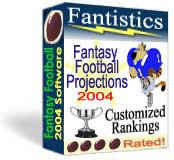 Click here for details on the new Fantasy Football Player Projections Software for 2004.
*This email was sent as part of an opt-in email program from our website. If you do not wish to receive e-mails from us in the future, click here to remove.