Francisco Lindor continued his torrid pace yesterday going 1-for-2 with 2 walks, 2 runs, and oh yeah - a leadoff home run. Lindor is now slugging an insane .808 on the young season with four HR. The power will decrease over the course of a full season, but Lindor is clearly competing to be the best fantasy SS in the league this season. Enjoy the ride.
The man formerly known as Big Game James Shields, who will be making $42 million over the next two years, put together another solid outing going 5.1 innings with 6 K and just 1 ER. The downside here is that he was extremely fortunate; his FIP for the game was 4.28; in his first start, his FIP was 6.34. Don't buy into the surface stats; he's still not a reliable fantasy option. Barring an increase in velocity or change in how he attacks hitters, I don't see a strong season from Shields in 2017.
Michael Brantley was 1-for-3 yesterday afternoon with two walks and game winning double. Yesterday was encouraging, but early returns on Brantley have been lackluster. Coming into yesterday, he struck out in nearly 28% of at bats, and his contact rate was a mere 77% vs. the 91% for his career. But when there's an 18 PA sample size, you don't overreact to things like that. I'm still bullish on Brantley for 2017, particularly in the middle of the Indians offense that hasn't remotely heated up yet.
Drew Pomeranz came off the disabled list yesterday and promptly went 6 innings of 1 ER baseball against the Orioles. Pomeranz is a little under the radar after struggling late in 2017 following the trade to the Red Sox,, plus a short DL stint this year, but he showed solid peripherals before the trade. I think Pomeranz will be finish the season with K rate over 9 and an ERA under 4.00, which is valuable in most leagues. Try to buy low if you still can.
There are unusual starts to the season, and then there's Russell Martin. Martin entered yesterday hitless in 20 PA, but is somewhat saved by an insane 30% walk rate; 20 PA with no hits and a .300 OBP. Nuts. Last night he went 0 for his first 3 with 3 strikeouts. Looking at Martin's career, his 2014 sticks out as quite an anomaly - a 140 wRC+ vs. a career average of 106. Expecting anything over 106 is asking too much at this point for the 34-year old catcher. Don't buy into the name value if there's any left over.
This is just a small sample our our daily analysis, join our member area for over 80 player updates daily: http://www.fantistics.com/salesbaseball.php3
Daily Injury & Player Status Insider Reports - stay caught up with important baseball information from sources around the country. Best of all it's delivered via email and covers over 150 players daily. Since 1999, we have delivered over 180+ days of our industry leading reports every season. (Sample Report)
Player Tracker" a web based system that will track and report all of

your player news

stories on one convenient page (up to 50 players). No more fumbling through countless web sites, you'll find all the information here every morning. Additionally you'll be able to keep track of up to 8 separate fantasy teams, including a daily box score for your team/s.
Weekly Lineup Ranking: your fantasy players are rated/ranked based on the strength of the opposition for the coming week.
Complete Historical Stats Database: access to each player's complete stats and fantasy values over the last 7 years, including 1st / 2nd half yearly splits, 3 Year averages, Sabermetric Indicators, weekly, & even daily box scores. Fantasy Value daily updates on over 1200 players. Pitching Intelligence Logs: easily identify pitchers based on their trends.
Strategy Player Reports: find out who the Rising, Dropping, Hot, Cold, and Recommended players are. 14 Day Pitching Rotations: We take great pride in the accuracy of our 14 day rotations which are updated daily in our member section.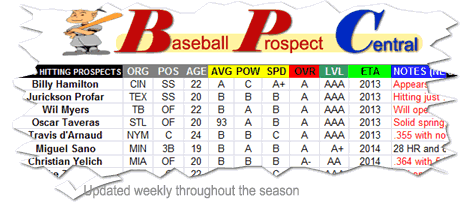 Detailed Minor League Player scouting reports throughout the week (sample report). Weekly Data Sheet grading player attributes for: A. Top 100 Minor League Prospects, B. Top 5 players from every organization, C. Top Prospects of the Week. D. Recent Minor league call-ups
<!-comments-button-->