Adam Frazier, OF, PIT
Frazier went 3-5 on Sunday, hitting out of the leadoff spot for the second game in a row. He has a chance to be very successful as a leadoff hitter thanks to the excellent contact ability that he has displayed throughout the minors and into his big league career. So far this season, Frazier is hitting .353 with just one strikeout in 20 PA's. If he can start stealing bases with regularity from atop the Pirates order, he would suddenly become very mixed-league relevant. Unfortunately, he isn't expected to provide much power (only 5 HR's throughout his professional career) so we will need to see him steal some bases before seriously considering him in fantasy.
Jeanmar Gomez, RP, PHI
Gomez blew the save on Sunday allowing a 3-run HR to Ryan Zimmerman in the 9th inning, although he did come out with the win. The win is nice contribution for fantasy owners, but it may very well be the last contribution that owners get from Gomez. He has now allowed 5 ER's, including 2 HR's, in 3 innings of work this season, while Hector Neris has not allowed a run in 3.1 IP out of the Phillies' bullpen. One would think that a change at closer for the Phillies would be imminent, and this isn't very unexpected considering Gomez' mediocre strikeout rates. It's a bit ironic, because giving up too much contact hasn't been the primary problem for Gomez is in his first few outings (4K's out of 15 batters faced). Rather it's been the HR's, something Gomez has been able to limit throughout his career due to high GB-rates. Regardless, once Gomez is removed from the closer role, he pretty much has no value in fantasy leagues.
Julio Teheran, SP, ATL
Teheran allowed just two unearned runs in 7 IP on Sunday, as he still carries a 0.00 ERA through two starts. On the other hand, Teheran's xFIP through two starts is a not so exciting 4.38. That number will probably lower a bit as his K% and GB% normalize, but I'm still skeptical about him repeating his 3.21 ERA from a year ago, considering that he has never had an xFIP under 3.75. To be fair, Teheran does have a history of outperforming his peripherals, but an ERA in the mid-to-high 3.00's seems like a reasonable expectation. If other owners view him as a top-tier ace, now would be the time to sell.
Jonathon Villar, SS, 3B, MIL
Villar struck out 3 more times on Sunday, giving him 15 K's in his first 31 PA's of 2017. Villar has always had higher than average strikeout rates, but if the strikeouts increase any further, he'll have a very tough time maintaining a decent BA. Of course, Villar's primary fantasy value comes from his speed, and the sudden display of power in 2016 (19 HR's) took him to another level in terms of fantasy production. At least from the early returns, it seems like the power gains are still there, as Villar has already hit 2 HR's in the young season. The BA is likely to drop from last season's .285 mark, but if he can approach 20 HR's and finish among the league leaders in steals, his owners will probably be happy even if he hits .250.
Wilson Contreras, C, OF, CHC
Contreras has done very well against LHP's so far in his young career, hitting .321 with an .874 OPS against them. He has also played much better at home with a career .923 OPS at Wrigley Field compared to .772 on the road. On Monday, the Cubs host the Dodgers who will be starting LHP Alex Wood in place of the injured Rich Hill. Wood struggled especially on the road last season with a 5.23 ERA on the road compared to 1.32 at home. This makes for a nice matchup for Contreras at a pretty cheap price. DraftKings Value Play $3,600.
This is just a small sample our our daily analysis, join our member area for over 80 player updates daily: http://www.fantistics.com/salesbaseball.php3
Daily Injury & Player Status Insider Reports - stay caught up with important baseball information from sources around the country. Best of all it's delivered via email and covers over 150 players daily. Since 1999, we have delivered over 180+ days of our industry leading reports every season. (Sample Report)
Player Tracker" a web based system that will track and report all of

your player news

stories on one convenient page (up to 50 players). No more fumbling through countless web sites, you'll find all the information here every morning. Additionally you'll be able to keep track of up to 8 separate fantasy teams, including a daily box score for your team/s.
Weekly Lineup Ranking: your fantasy players are rated/ranked based on the strength of the opposition for the coming week.
Complete Historical Stats Database: access to each player's complete stats and fantasy values over the last 7 years, including 1st / 2nd half yearly splits, 3 Year averages, Sabermetric Indicators, weekly, & even daily box scores. Fantasy Value daily updates on over 1200 players. Pitching Intelligence Logs: easily identify pitchers based on their trends.
Strategy Player Reports: find out who the Rising, Dropping, Hot, Cold, and Recommended players are. 14 Day Pitching Rotations: We take great pride in the accuracy of our 14 day rotations which are updated daily in our member section.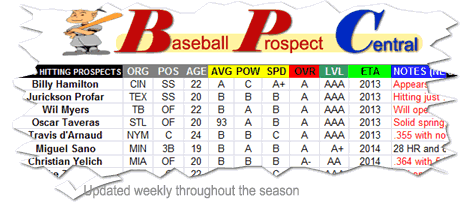 Detailed Minor League Player scouting reports throughout the week (sample report). Weekly Data Sheet grading player attributes for: A. Top 100 Minor League Prospects, B. Top 5 players from every organization, C. Top Prospects of the Week. D. Recent Minor league call-ups
<!-comments-button-->